DETAILS
---
WANT MORE CAPACITY AND LESS WEIGHT?
Introducing 12 Volt Direct's latest release the TVD-LB200.
Designed to perform where other batteries cant, the TVD-LB200 provides up to 200A continuous power. This is ideal for running fridges, lighting, charging portable devices, and inverters up to 2000 watts.
This power plant packs a whopping 200AH of capacity into a compact case size and weighs in at only 27KG
Please note this battery is NOT suitable for under bonnet use.

---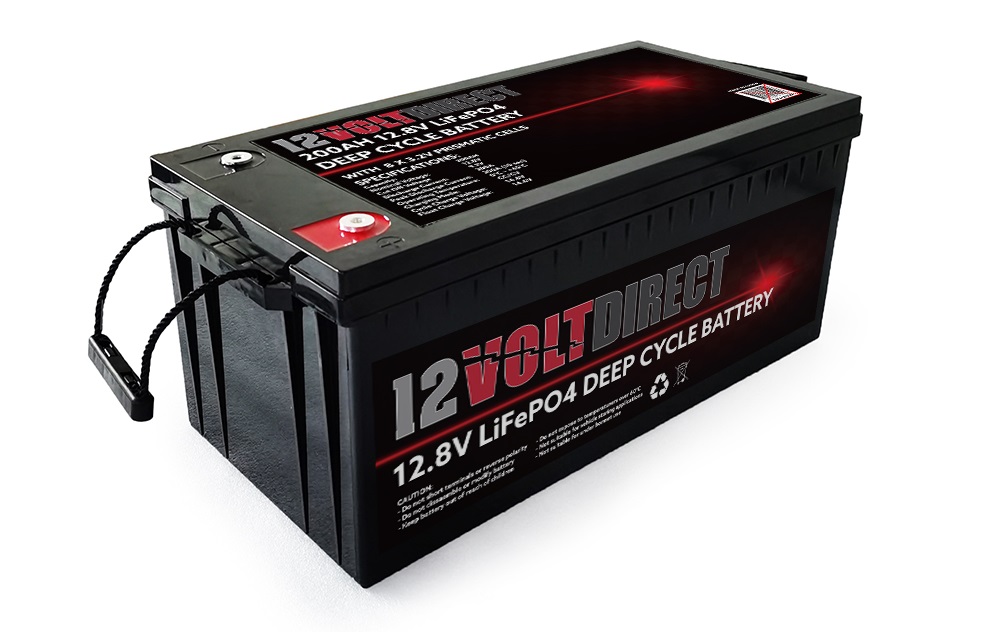 WHY LITHIUM?
Lithium batteries provide far greater useable amp hours than their lead-acid counterparts. Unlike lead-acid lithium batteries can be deeply discharged without affecting the cycle life. This means you can use the battery for longer before having to recharge. In comparison, AGM batteries are generally recommended to only be discharged to 50% of their capacity to maximize their cycle life whereas lithium can generally be discharged to 80-90% of the capacity.
COST
While the initial investment of a lithium battery is more than lead-acid the service/cycle life of lithium is far superior. Typically lead-acid batteries have a service life of 300-900 cycles whereas Lithium has a cycle life of 2000+ cycles at a much higher discharge. That being said you would expect to replace your lead acid battery 2 or 3 times in comparison to replacing 1 Lithium battery.
---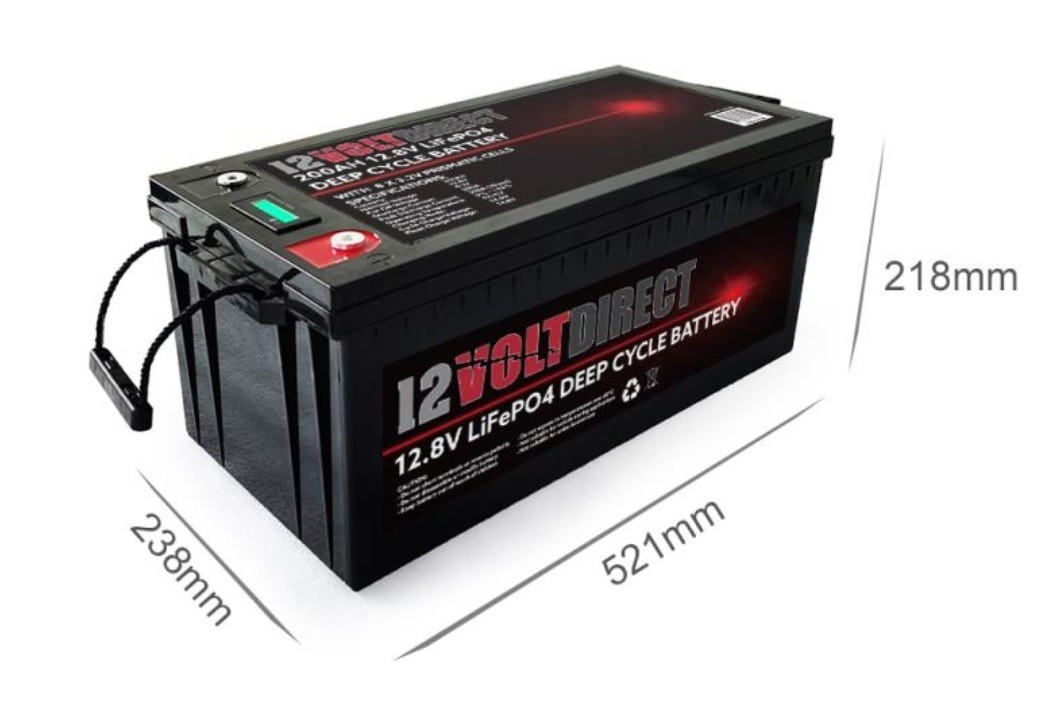 Longer life
Lithium batteries are rated for 2,000 – 5,000 cycles and much more if used carefully, giving you several times the life expectancy of standard lead-acid batteries
Powerful
Lithium batteries allow you to pull far more amps out of the same size battery systems
Light-weight
Lithium batteries are less than half the weight of the equivalent lead-acid battery.
Fast recharge
Lithium batteries charge more efficiently and don't require as many stages during charging. Therefore, they will charge faster, and hold more of the energy from solar panels and other charging devices.
---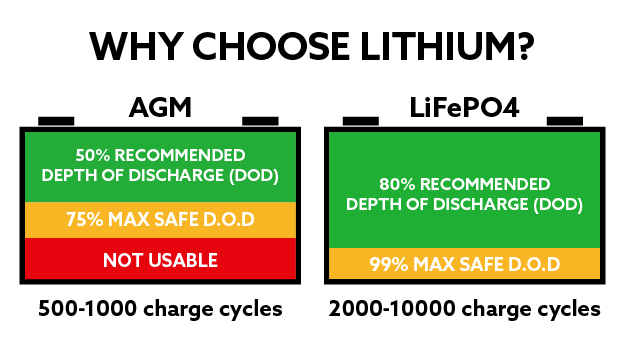 Lithium v AGM Capacities
100Ah Lithium = 160Ah AGM
125Ah Lithium = 200Ah AGM
200Ah Lithium = 320Ah AGM
300Ah Lithium = 480Ah AGM
(Based on standard depth of discharge for both Lithium (80%) and AGM (50%).
---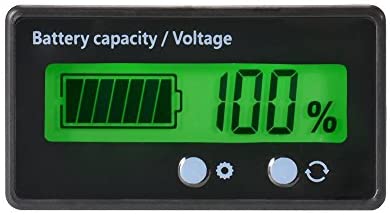 The 12 Volt Direct Difference
Deep cycle batteries may appear similar on the outside but don't be fooled, there are key differences between low-quality offerings often found on online auction sites and 12 Volt Direct's premium quality offerings.
Prismatic Cells
The TVD-LB200 consists of high-quality 3.2 volt prismatic cells. Prismatic cells provide superior performance than their cheaper cylindrical cell counterparts as they are more stable and shock-resistant.
Built-in Battery Management System (BMS)
The TVD-LB200 is equipped with an advanced internal Battery Management System. This monitors and optimizes each Prismatic cell within the battery. It will protect the battery pack from over charge, over discharge, over temperature & short circuit. The BMS helps to ensure safe and accurate operation of the battery.
Built-in Volt Meter
The TVD-LB200 features an LCD screen on the top of the battery to allow you to easily see your battery level of charge at any point in time. The screen is backlit to allow for ease of use whether it's day or night.
---
---
---
THE 12 VOLT DIRECT GUARANTEE
All 12 Volt Direct products are manufactured using the highest quality materials. We are so confident that we stand behind this product with a comprehensive 3 Year Australian Warranty.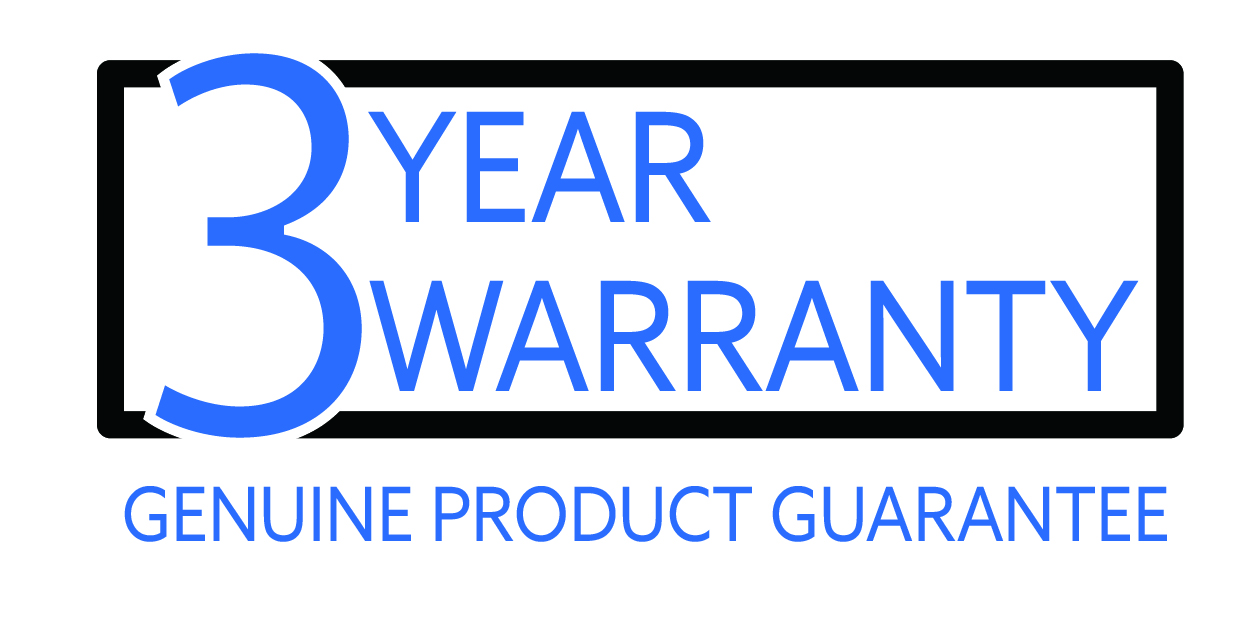 SPECIFICATIONS

| | | |
| --- | --- | --- |
| NOMINAL VOLTAGE | | 12.8V |
| CAPACITY | | 200AH |
| MAX SERIES / PARALLEL CONFIG | | 4P OR 4P |
| NORMAL CHARGE VOLTAGE | | 14.6V |
| FLOAT VOLTAGE | | 14.0V |
| DISCHARGE CUTOFF VOLTAGE | | 10.0V |
| CHARGE TEMP | | 0-45°C (60°C max discharging) |
| DISCHARGE TEMP | | 0-45°C (60°C max discharging) |
| SELF-DISCHARGE | | Less than 3% per month |
| INITIAL IMPEDANCE | | 220mΩ |
| WEIGHT | | 27KG |
| MAX CHARGE CURRENT | | 100A |
| MAX DISCHARGE CURRENT | | 200A |
| PULSE CURRENT | | 300A (10 Seconds) |
| DIMENSIONS | | 521 X 238 X 218mm |
| CYCLE LIFE | | 2000 CYCLES @ 85% DOD |
Regular Shipping - FREE
Express Shipping - $14.95
In Store Pickup - FREE