DETAILS
---

---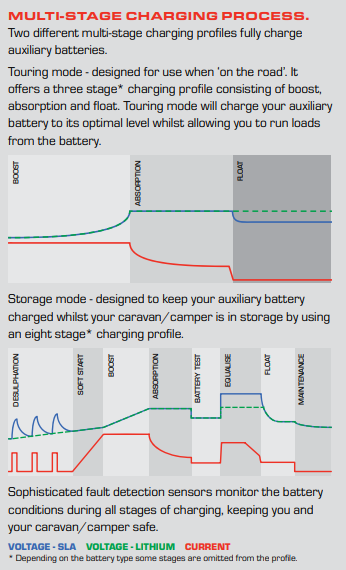 This 30 amp charger can simultaneously charge from 240 volt AC mains power, your vehicle's alternator, and solar. Whether you're free camping or on a powered site, it knows how to take charge and keep auxiliary batteries fully charged. Designed and manufactured in Australia for the toughest conditions, using the latest electronic and design technology, The Manager30 will get you to where you want to go - and back again - with complete confidence. No matter where you travel you know you will always have the power you need.
SIX SOLUTIONS IN ONE.
• DC In-vehicle battery charger
• 240 volt AC battery charger
• MPPT solar regulator
• Dual battery isolator with Smart Start® technology
• Load disconnect controller
• Remote battery monitor
Developed with ease of installation in mind, The Manager30 is compatible with all vehicles and alternator systems including variable voltage alternators.
POWERFUL OUTPUT.
The Manager30 comes with a 30 amp current output and is able to handle more power intensive loads and maintain larger battery banks. It can also charge all common automotive batteries including lithium (LiFePO4).
GREEN POWER PRIORITY.
If 12-volt solar power is available, solar power will be used before topping up the output charging current from another source such as mains power or DC vehicle power when you're on the move.
MPPT SOLAR REGULATOR.
The built-in Maximum Power Point Tracking (MPPT) solar regulator allows The Manager30 to deliver the maximum amount of power from your solar panels, even during low light conditions.
---
---
---
---
---
---
Regular Shipping - FREE
Express Shipping - $14.95
In Store Pickup - FREE