200W Solar Blanket Flexible Folding Panel w/ Legs & Armour Cell
DETAILS
---
Whether you're travelling around Australia full time or even the occasional weekend warrior, reliable solar power can make all the difference between having the trip of a lifetime or one from your nightmares.

With this in mind, we have spared no expense in designing our portable solar blankets to withstand harsh Australian conditions with the best components including:

High Performance - A-Grade monocrystalline solar cells.

Heavy Duty - 1680D Canvas

Armour Cell Technology - Our exclusive cell protection armour.

Available in 3 Sizes - 160 Watt, 200 Watt and 250W.

---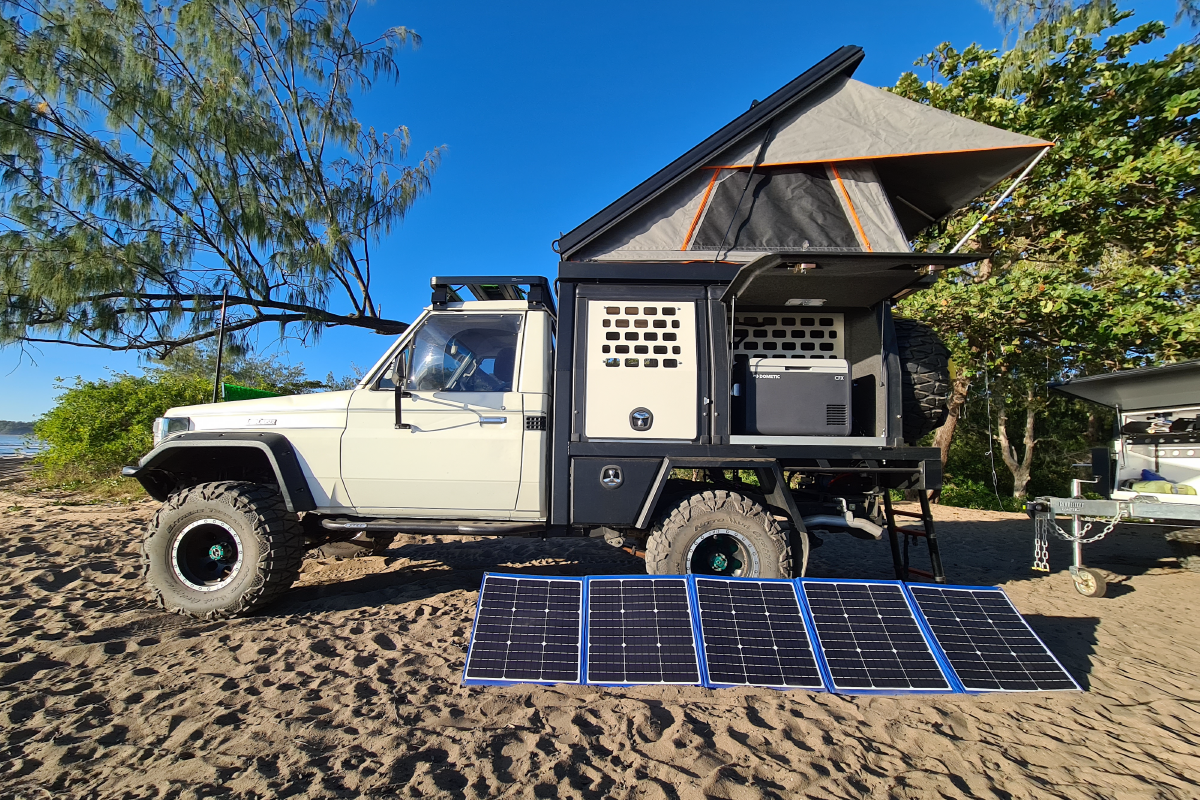 WHY USE SOLAR BLANKETS
Lightweight - Solar blankets are up to 50% lighter than your typical portable aluminium solar panel.

Compact - Solar blankets are up to 60% more compact when folded for storage than aluminium panels

Rugged - Our Armour Cell Technology is extremely tough and is capable of bearing 400 times its own weight.

Higher Efficiency - Our Armour Cell Technology transmits more light and insulates better than glass. It is a common misconception that solar blankets are less efficient than glass panels.
---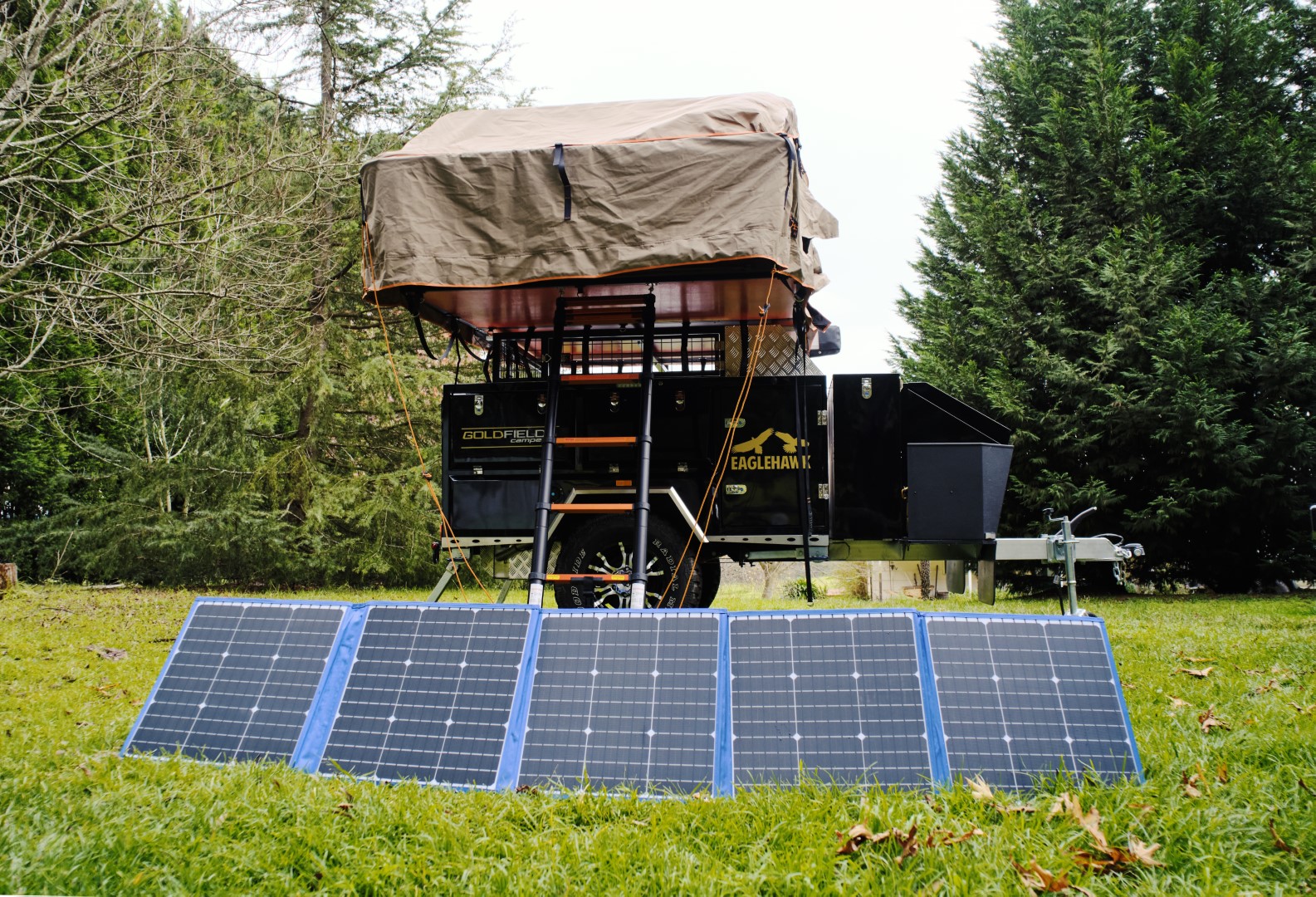 UNCLIP & UNFOLD - It's that easy!

Solar blankets are the ideal solution to charge and maintain your battery when using 12 volt appliances such as:
LED Lighting

Fridges

TVs

Stereos

Other 12 volt camping equipment.




ALL IN ONE DESIGN

Our solar blankets come equipped with a built-in storage pouch which is ideal to store the solar charge controller, extension cable and adapter leads.
---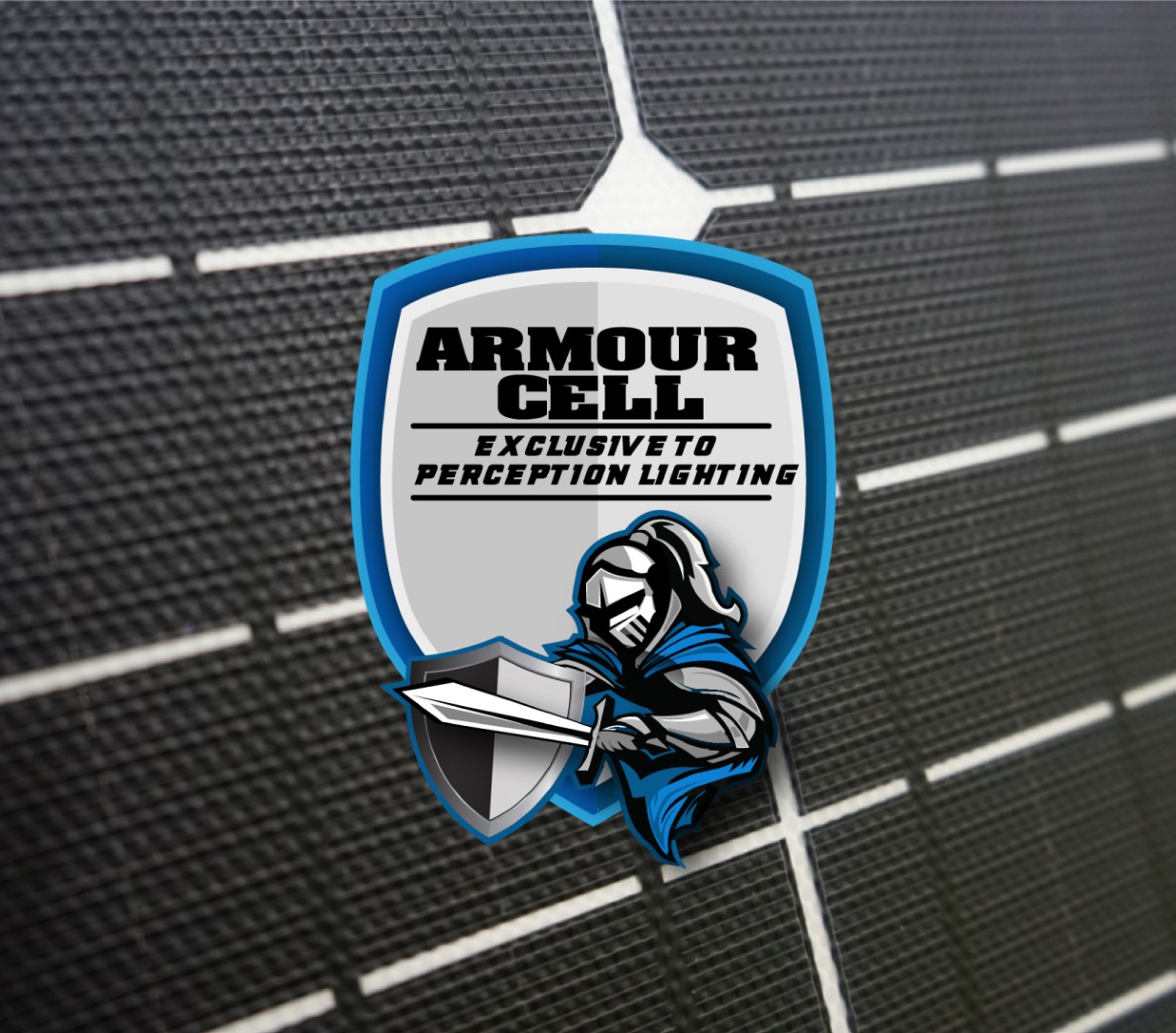 ARMOUR CELL TECHNOLOGY
Our Armour Cell Technology is heat, UV & impact resistant layer provides the ultimate protection for solar cells.
Lightweight - 1/100th the weight of glass.

Impact Resistant - With high mechanical strength.

Higher Efficiency - Insulates heat better than glass while transmitting 95% of light.

Rugged - Extremely tough and is capable of bearing 400 times its own weight.

Self Cleaning - Non-stick surface resists dirt and debris.

Long-Lasting - 50+ Year Lifespan
---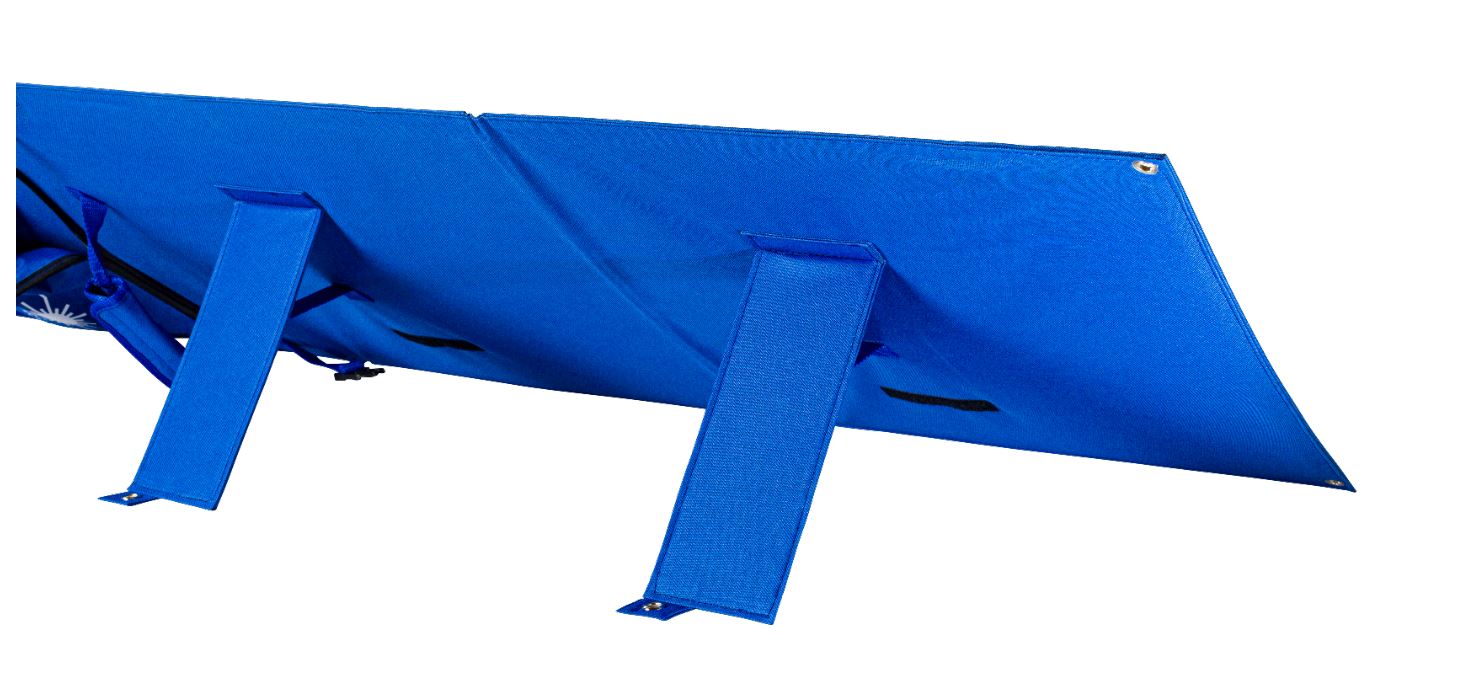 BUILT IN LEGS

One of the key features of our solar blankets is the built-in legs which contribute to the panels overall performance. The legs fold flat with the panel for storage and are secured with velcro.
Freestanding - allows the panel to be placed away from vehicles and moved during the day for optimal positioning.

Prevents Damage to Vehicles - Placing solar panels on your bonnet or windscreen can cause damage to your vehicles paint from high temperatures and abrasion.

Air Flow - Placing your panels on your vehicle can lead to heat saturation and in turn a loss of efficiency. It is a misconception that solar panels work from the suns heat, for optimal performance solar panels need to be kept cool.
---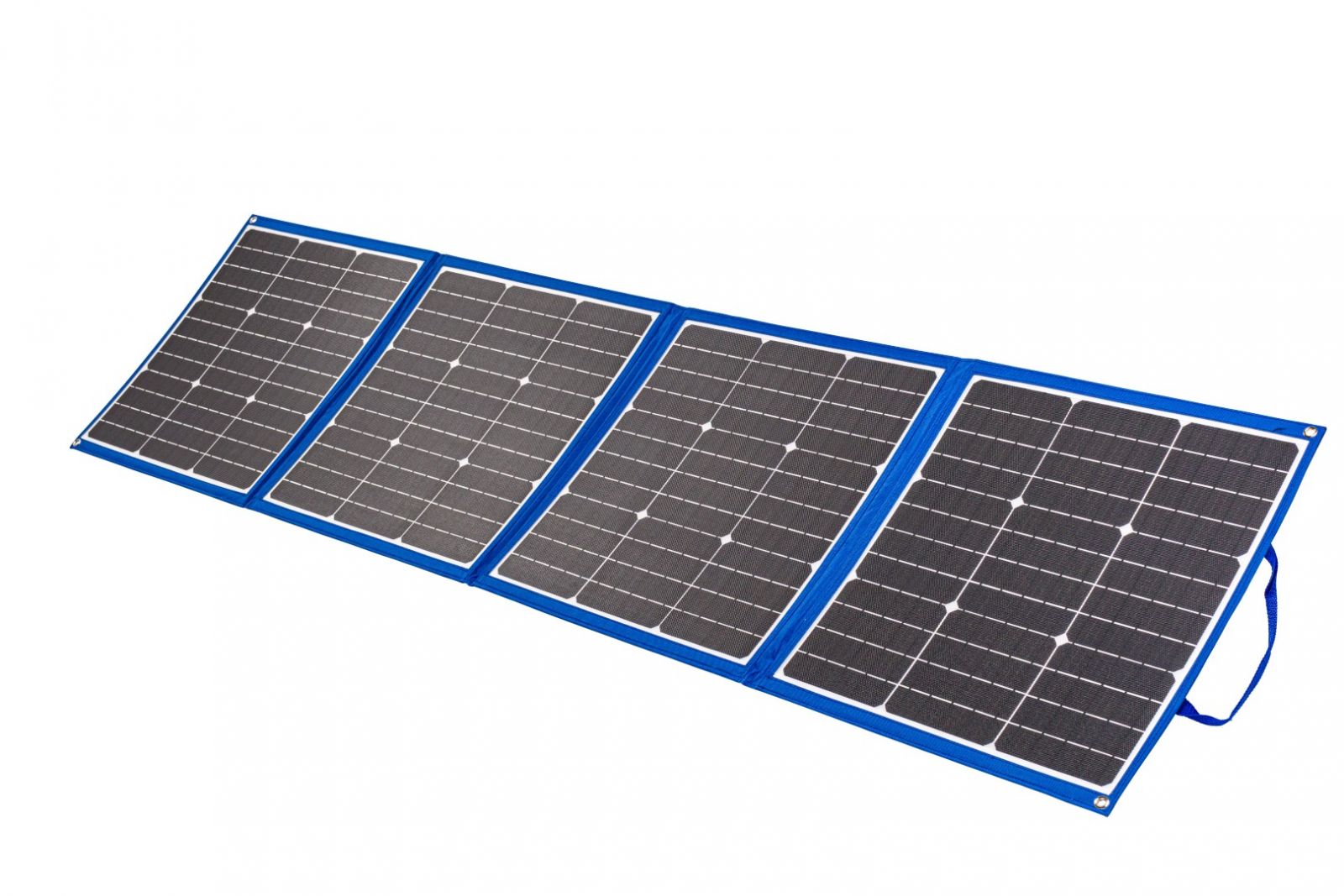 BY-PASSABLE REGULATOR

The included solar regulator is pre-fitted with Anderson style connectors as standard. This allows the regulator to be easily bypassed in the event that you require an unregulated solar input for DC-DC Chargers, Battery management Systems or if you already have a solar regulator.
WHATS INCLUDED
Portable Solar Blanket




5m Anderson Style Extension Lead




20A PWM Solar Regulator




Anderson Style Plug to Aligator Clip Adapter
---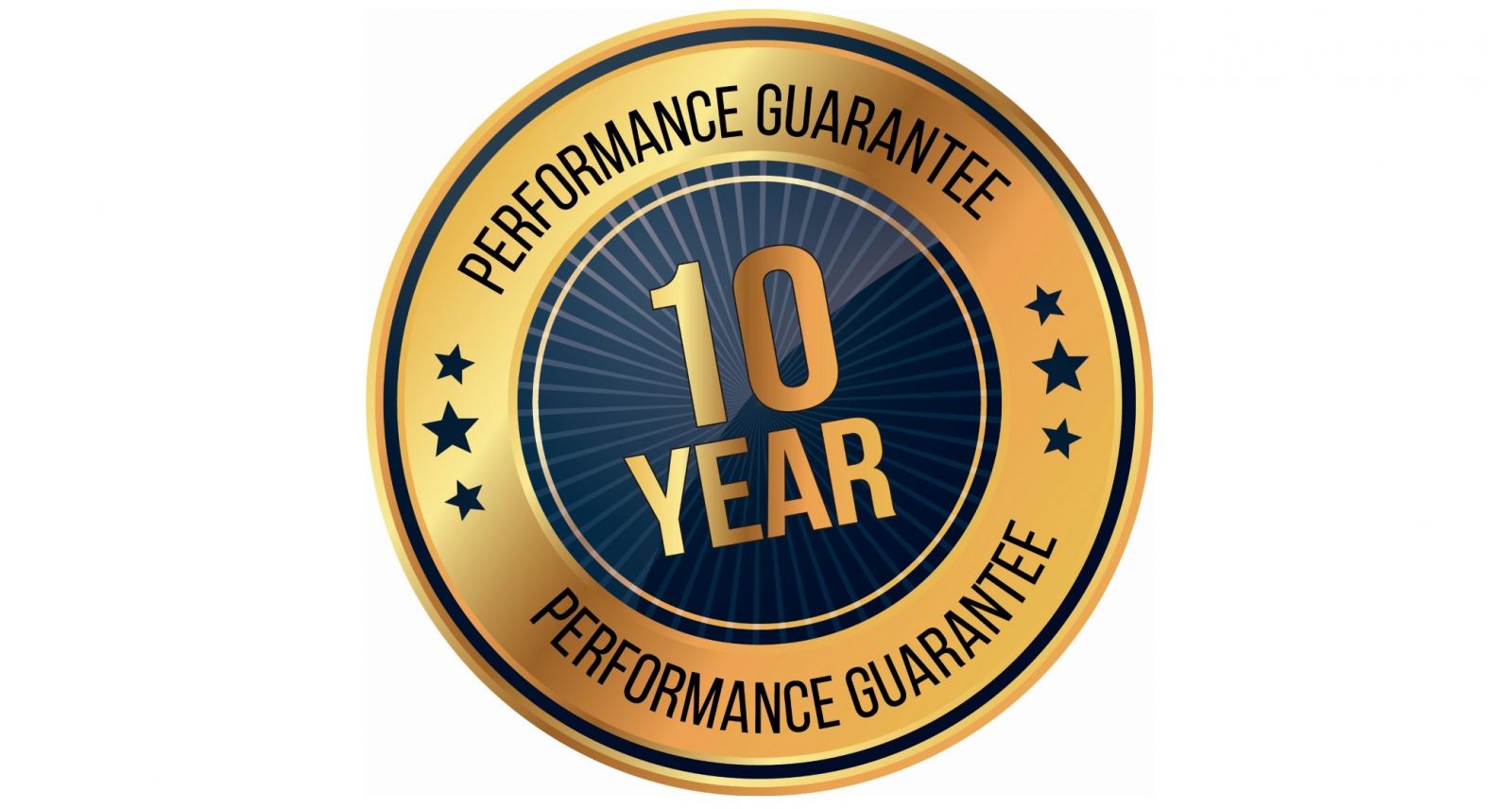 THE PERCEPTION LIGHTING® GUARANTEE

All Perception Lighting products are manufactured using the highest quality materials. We are so confident that we stand behind this product with a comprehensive Australian Warranty.
10 Year - Solar Cell Efficiency Guarantee

5 Year - Canvas Warranty

2 Year - Accessory Warranty
---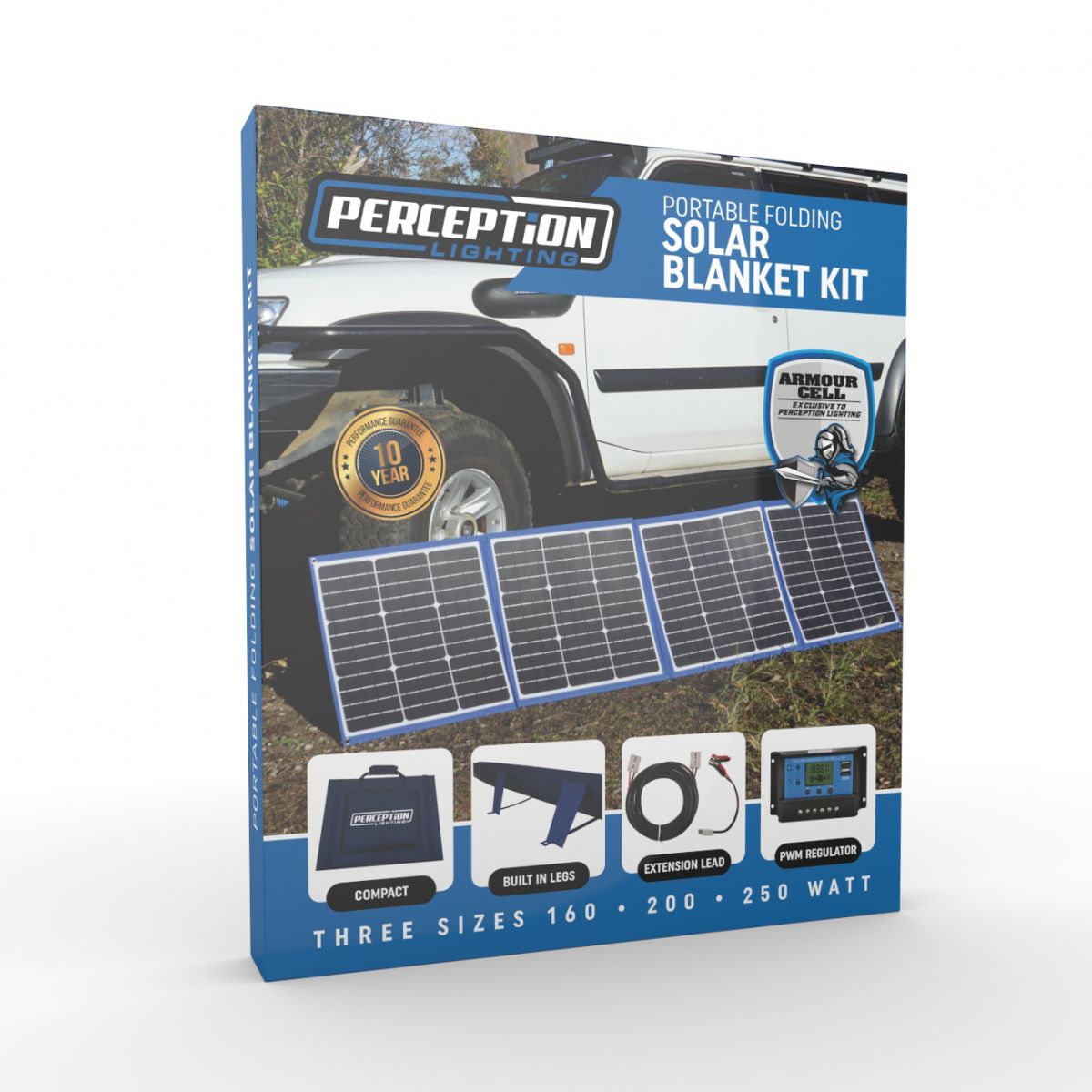 Technical Specifications
| | | |
| --- | --- | --- |
| Maximum Power (Watts) | | 200W |
| Solar Cell | | Monocrystalline |
| Max Power (Volts) | | 19.8V |
| Max Power (Amps) | | 10.1A |
| Open Circuit Voltage | | 23.36V |
| Short Circuit Current | | 11.11A |
| Operating Temperature | | -20 to 50°C |
| Max System Voltage | | 100V |
| Open Dimensions | | 2660 x 530mm |
| Closed (Folded) Dimensions | | 470 x 620mm |
| Closed (Folded) Thickness | | 65mm |
| Weight | | 10kgs |
Regular Shipping - FREE
Express Shipping - $14.95
In Store Pickup - FREE